Along with picking out your family's Christmas Tree there are many other activities and amenities on our family's farm. Be sure to bring your camera!
Come on in and warm up after picking out your family tree with some a nice warm beverage. Refreshments vary from day to day but typical offerings include:

Hot Chocolate
Coffee
Hot Apple Cider
Cookies
Brownies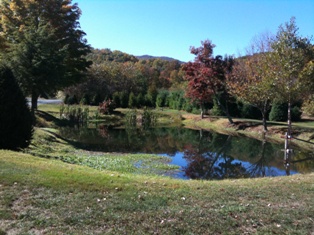 Always a favorite of our younger visitors are our creek
and ponds. Our aquatic habitats are

home to many different critters and species of fish. On many days our pond is clear enough to see to the bottom, and our visitors are able to catch a glimpse of some of our catfish, rainbow trout, and golden trout as well some other smaller fish. We recently spotted a young otter playing in our pond.



There are plenty of roads and trails throughout that farm that offer a spectacular view of the surrounding mountains. Be sure to visit our gallery to see some of this year's fall colors as seen from the farm!
Perhaps our most popular activity on the farm is hay rides. If you would like to see a bit more of the farm and enjoy the view without the work of hiking a hay ride is the perfect way to go. Hay rides will be available on weekends as weather conditions permit. During times of heavy snow we may have to temporarily suspend hay rides for safety. Hay rides start Thanksgiving weekend.