Due to a limited inventory of trees in the most popular sizes, we will not be open for choose and cut this year. We have replanted, but the trees need some time to grow. If you're looking for a tree 12 feet tall or taller, please . We may be able to accommodate. A listing of choose and cut farms can be found on the
NC Christmas Tree Association website.
Be sure to like our page and get out latest pictures and updates.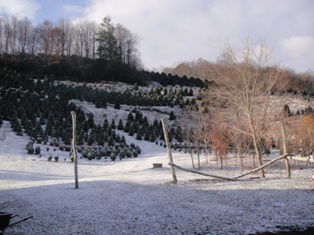 Welcome to Taylor Nursery and Tree Farm. We are located between Boone and Banner Elk high in the Appalachian Mountains.
Choosing your very own family Christmas tree is the perfect family Christmas tradition. Our family has been growing Christmas trees since 1963. We would love the have the opportunity to share our favorite holiday tradition with you and your family. We welcome you to explore our website and learn more about our farm.
Thank you to everyone who made us a part of their Christmas celebration last year! If you have any pictures or memories of your tree, or trip to our farm you would like to share with us we would love to add them to our site! Be sure to follow us on Facebook and stay up to date with the latest news from our farm.
Updates:
11/14/2020 Content updated for 2020 season.
11/22/2016 We now accept contactless payments including ApplePay and Android Pay.
11/19/2010 We now accept all major credit cards.
Mailing List cannot be automatically migrated